| | | |
| --- | --- | --- |
| Welcome | | You are not currently logged in. |

Jesse Newman

Shannon Skinner
Business Manager/Financial Sec. President
| | | |
| --- | --- | --- |
| | Action Center | |
| | | |
| | | |
| | | |
| --- | --- | --- |
| | | |
| | | |
| | | |
July 21, 2014
Sisters and Brothers,
For those of you who are participating in the Healthy Living Program please note, the NV Energy Healthy Living Program Informational Meeting scheduled for July 22nd is being rescheduled for August 19th at 6:30 PM to coincide with our NV Energy Unit Meeting.
In the meantime, please be sure to locate and familiarize yourself with the recent communications that were sent to your address from NV Energy regarding the Healthy Living Program. Those communications contain important new information regarding the Healthy Living Program, the healthy living incentive and your health benefits.
In addition, please be sure to read any communications you might receive in the mail labeled Healthy Living Program, as they contain important information related to your health benefits.
If you have further questions or concerns please contact:
Healthy Living Program, call the Healthy Living Program Manager at (702) 366-0300
Medical, Pharmacy and Dental benefits and claims call Aetna(800) 282-8156
Business Manager/Financial Sec.
Sisters and Brothers,
All active members are encouraged to attend their monthly Union Meeting. This is the time to find out what's going on in your Union. If you have questions or concerns regarding issues in your work place, or just a basic question, this is the place to get your answers. If you have concerns with something being done here, come and join in the discussion. This is where you, as a Union member, get to be heard and get information pertaining to your work place and the Local Union. Don't forget to bring a friend; anyone who brings a member who has not attended a meeting in at least three (3) months will get a free shirt, or anyone who organizes a new member will get one of their choice. I look forward to seeing you, Tuesday, August 19, 2014 @6:30 p.m..
Business Manager/Financial Sec
IBEW Local 396 continued its shame on CenturyLink campaign last week in front of the Consumer Electronics Show here in Las Vegas, where over a hundred thousand people were able to view the banner and show their support for the Members of Local 396 who have been working under an expired agreement since February of 2013.
Business Manager Jesse Newman stated "the response and show of support by those who attended the CES show was overwhelmingly favorable to our Members" he also stated " that Local 396 will continue with all means necessary against CenturyLink until a fair and equitable agreement is reached by the parties".
Continue to follow and show support for our "Shame on CenturyLink Campaign"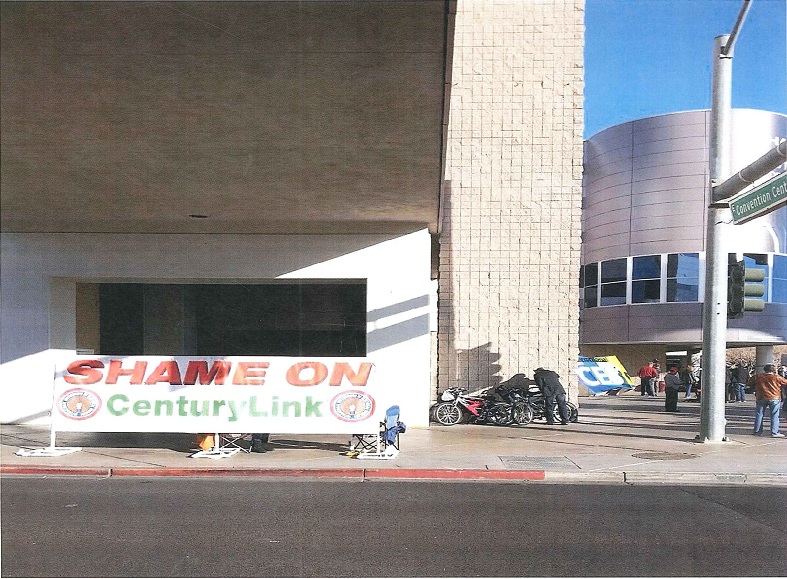 Brothers and Sisters,
You can now follow us on facebook @ IBEW Local 396 for all the latest updates and history of the IBEW. I would encourage all of you to take part; this is an excellent tool to notify you about upcoming Unit Meetings, Contract Updates, Job Actions and much more.
If you have any questions or need help finding us on twitter do not hesitate to contact us here at the Union Hall 702-457-3011.
Business Manager/Financial Sec.
If you are a current member of Local 396 and still have not registered for member access you are missing out on valuable information. Once you have registered, you will have unrestricted access to things like negotiation updates, contracts, grievance request forms, the IBEW Constitution and much more. Furthermore, we will be able to send you emails and text messages regarding time sensitive issues.
To get started, you will need to go to the right of this page where it says "click here to sign up" make sure to fill the form out completely. Once you submit the registration form, your account will be activated upon successful verification. Generally it takes up to forty (48) hours for your account to become active, excluding weekends and holidays. If you have any questions or need help do not hesitate to contact us @702-457-3011.
Business Manager/Financial Sec.